Religion

Eastern Orthodox

Family status (children included)

Married, one adult daughter

Place of birth (town, state)

Sofia, Bulgaria

Now living in (town, state)

Silver Lake, Washington, USA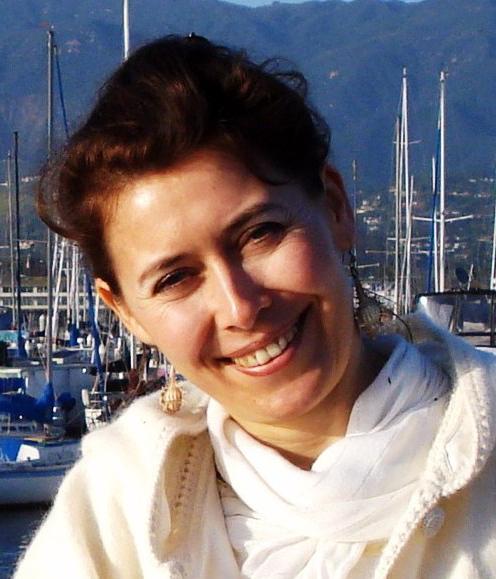 ---
1. I see myself as the vessel of several identities that meet and inform one another. These were generated by my enduring curiosity about the world, my readiness to learn, and my eagerness to create. My professions and activities immerse me into various circles where I introduce myself accordingly, but I first and foremost see myself as a scholarly student. So, I wouldn't call it a "frozen" identity. Rather, it is an identity in flux, "a dancing identity that crosses borders."
2. I haven't thought about their hierarchical order, probably because they all co-exist in harmony. Over the years I have practiced all of my professions and specializations and I have been addressed by many titles: dancer, singer, choreographer, dance teacher, philologist, Bulgarian language teacher, philosophy teacher, culturologist, ethnochoreologist, scholar, artistic director, folklorist, anthropologist, writer, poet, designer, visual artist.
As a young choreographer, with my very first publication of a few poems in a 1980s journal, I couldn't imagine myself marrying and bearing children. This changed after I joined a literary circle and married a poet. For a period of time (soon after Chernobyl's catastrophe), when I gave birth to my son, I was mostly a mother going from hospital to hospital. I then became the mother of two – and a student. I next became a grieving mother after losing my son at age six and mother to a baby daughter. And a student. I next became a teacher/lecturer/choreographer. And a student. So, my motherhood became part of my identity, as well as my status as a married woman. But these two are not the entry doors to my identity. They are rather an organic part of who I believe I am: a constantly self-actualizing human being.
3. In the beginning this was my family: loving, healthy relationships, trust and support; my father singing and playing guitar; merry company at home quite often; my grandmother who taught me first how to dance the most popular folk dances; the impact of my father who had the mind and hands of an inventor; my father again reciting Botev at nights; early recognition that I was a born dancer; inclination for the humanities; high school with specialization in German, earning a degree from a choreography institute, years of study in St. Kliment Ohridski Sofia University; years of working toward my PhD at the Institute of Art Studies at the Bulgarian Academy of Science.
I was deeply influenced by my university professors from both Slavic and Philosophy Departments. The period 1988 – 1997 was formative: a politically and intellectually intense time, with the excitement of reading everything formerly forbidden, now published in Bulgarian for the first time. I was also influenced by the professional standards of respected Bulgarian musicologists from the Bulgarian Academy of Sciences (Iskra Racheva and others). For shaping of my ethnochoreological specialization I am indebted to the Study Group of Ethnochoreology at the International Council for Traditional Music – ICTM, which I joined in 2002. This was crucial for finding my way in combining theory and practice. In Bulgarian academia, the folk dance ensemble as a research topic had been carefully avoided due to various reasons, one of which was its ideological connection to the former regime.
My first tour to France - at age 12 (as part of a children's folk ensemble at the Palace of Pioneers in Sofia), enlarged my worldview. This tour was followed by many more. All and all, my lifelong experience as a folk dancer and choreographer (in two politically different periods) and my further study became a platform for choosing the theme of my PhD thesis, "Bulgarian Folk Dance Ensemble as a Cultural Phenomenon."
Other… Teaching students of all ages in various disciplines and institutions, ongoing fieldwork in Bulgaria and the Balkans, visits and scholarly research among the American International Folk Dance communities in nearly 40 American states; ongoing fieldwork and research among the Bulgarian communities in the States. To this I would add my study of Bulgarian traditional arts in the late 1980s (works with wool and textiles) which helps me design and transform things.
4. I feel inspired by "renaissance-kind" of characters. Scholars, writers, painters, artists, who are at the same time musicians, researchers, travelers. If I was born earlier and I was a woman I would probably have become a figure like Madame de Staël or George Sand. Or Isadora Duncan. I am not identifying myself with their writings and artistry necessarily but with their spirits. Strangers, eccentrics, poets, philosophers, intellectuals. Pencho Slaveykov, Boyan Penev…
About music… Classical masterworks (Gluck, Mozart, Haydn, Beethoven…Handel), Orthodox chants (St. John Koukouzelis), "classical" traditional folk music… Men's polyphonic singing from Pirin mountain, Rhodope songs. Thracian. Rhodope's kaba gayda (low bagpipe). Slow melodies without meter. Shope tunes (from the Sofia region). Georgian men's singing. Armenian. Accordion compositions, piano, Chopin, Debussy, Satie, jazz, fado.
5. Yes, certainty. But it is impossible to list them. On the other hand, names of figures such as Dalchev, Pasternak, Daniil Harms, Konstantin Pavlov, Unamuno, Berdyaev and others, frequently appear in my poems and essays. I identify myself partially with the paintings of the impressionists with Monet at the head. But Kandinsky is also "mine." Ivan Milev. Rodin's sculptures. Boris Christoff's basso profondo voice and artistry (Velikoe Slavoslovie and all of the church-Slavonic pieces that he recorded with the Alexander Nevski Cathedral Choir); these shakes me to my core.
6. I am deeply thankful for the opportunity to have studied disciplines that speak to my heart, mind and body. The theory (my aspiration to analyze, "to grasp everything in its very essence" – to quote Pasternak) and the practice (dance, music making) have fed one another over the years and keep doing so. I feel at home in myself.
7. Many things. My spouse is a retired music professor and lifelong symphonic band conductor. He has been drawn to both Bulgarian traditional and classical music for decades. We met when he came to Bulgaria as a Fulbright scholar while I was among the Fulbright lecturers presenting Bulgarian traditional music and dance. He was the one who later introduced, with his symphonic band, Petko Staynov's Rachenitsa and Diko Iliev's Dunavsko horo [Danube Dane] to the local NW community. These were likely US premiers of both works. Today he is among my Bulgarian language students (at Podkrepa Bulgarian-Macedonian Association in Portland, Oregon). His support in my many activities, related to Podkrepa and the Bulgarian Cultural and Heritage Center of Seattle is a source of great comfort to me. Sometimes he asks me: "Which hat are you wearing today?" Regardless of which hat I am wearing, he is always beside me. My classes are weekly, so they require frequent travel and absences from our home.
8. The central consequence is "the founding of our own village here in America," as we tend to laugh with other co-villagers and co-citizens here.
I carry it around. My Bulgarian-ness is never lessened.
Being
Seattle is my good old Sofia
Silver Lake is the Black Sea but is also the Balkans
Here the first thing that I glance at in my mornings
Is the mountain with its white highness
This scenery is so impressive
Silver blue-ness beyond horizons
One cock-a-doodle-doo is ticking my days
And I am so much here
As I am in absence
January 3, 2017, Silver Lake
9. Years ago (probably 2000), when I was a lecturer at both New Bulgarian University and the Theatrical College "Lyuben Groys," I created a joint folk spectacle named "Sharena Hurka" (Picturesque Distaff) with my students. With this spectacle, we travelled to the Bulgarian Bessarabian village of Taraklia in Moldova. Here I witnessed how this former Thracian-Bulgarian village had been recreated in this distant, new location, carrying with it their songs, dances, and customs (influences of the "host" country are inevitable, of course). The ballad songs that I recorded there sounded like "once-upon-a-time" as melodies but also as plots, with embedded dialectic specifics of eastern Thrace villages. This moved me deeply. "Cry, dear, cry… We have cried a lot."
I have revisited this experience many times, wondering what each person carries within when one is physically moving across spaces and changing countries. This question is again vibrant today when I think of my own life and I observe various activities of Bulgarian cultural centers and institutions across the States. On the other hand, an intellectual is everywhere an intellectual, the actor, an actor, the poet, a poet. Isn't it so?
2017